Cleaver Ways to Improve Kitchen Manageability
I have often said, it is easy for us to create and design a beautiful kitchen, but what makes you love your kitchen for years after the remodel excitement is over? I have found over many years and many happy clients, that the simple, sometimes unseen, things are what make you love your kitchen. The things that make your kitchen work for you is what will be lasting.
You spend a lot of time in your kitchen- so making it functional and organized should be a top priority! And plus, who couldn't use a little more storage space? These clever ideas for your kitchen cabinets could be just the thing to start making your kitchen really shine. Here we have rounded up 5 storage solutions to incorporate into your kitchen remodel.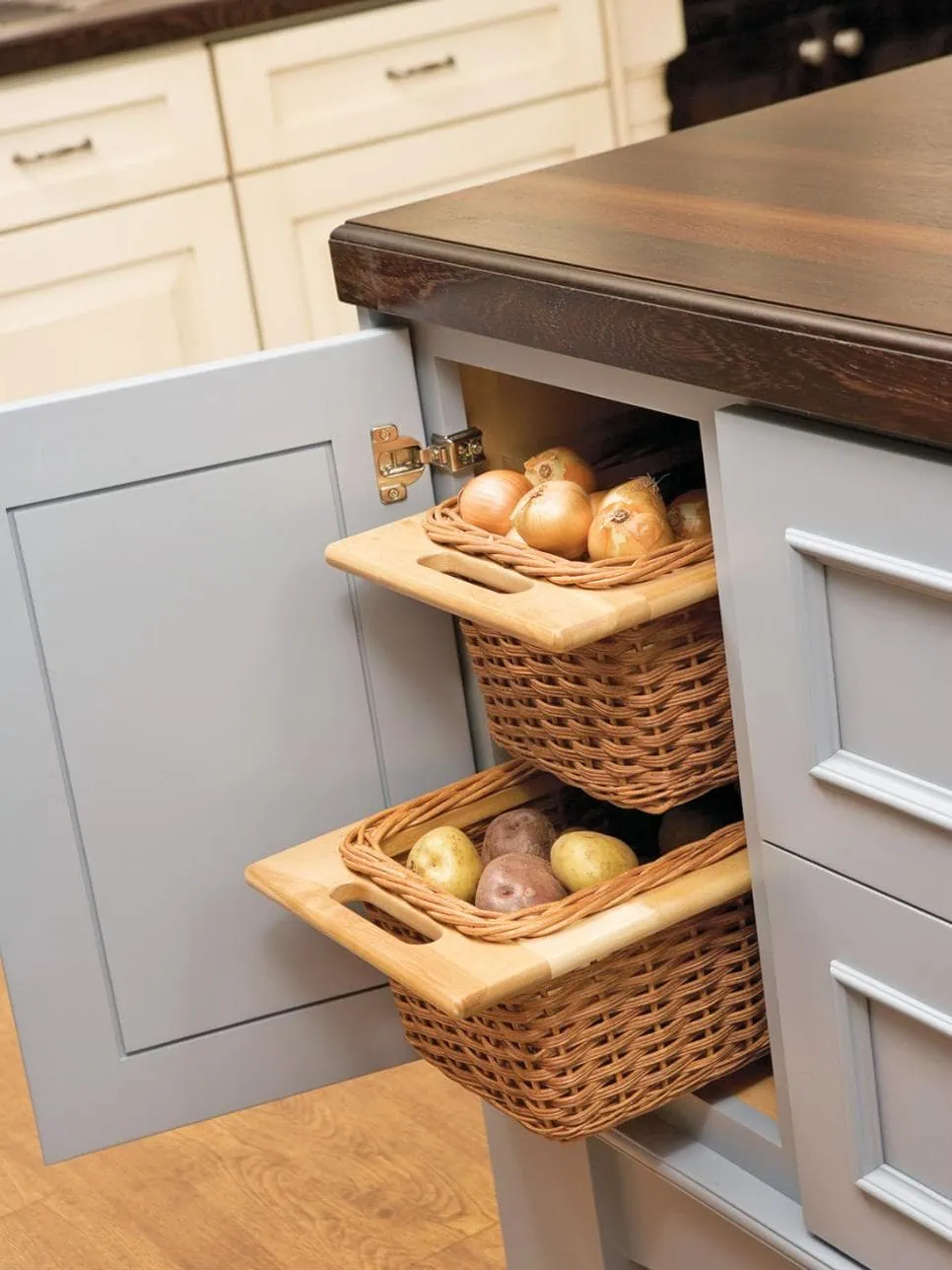 1. Baskets for potatoes and onions
The days of tossing those big plastic bags of potatoes and onions into your pantry consequently leaving dirt and grime all over are done with! There are so many reasons to love these drop in baskets. They're stylish, easy to clean, and can be used for many different products. If you want to keep your produce easily within reach, this cabinet set-up is the way to go.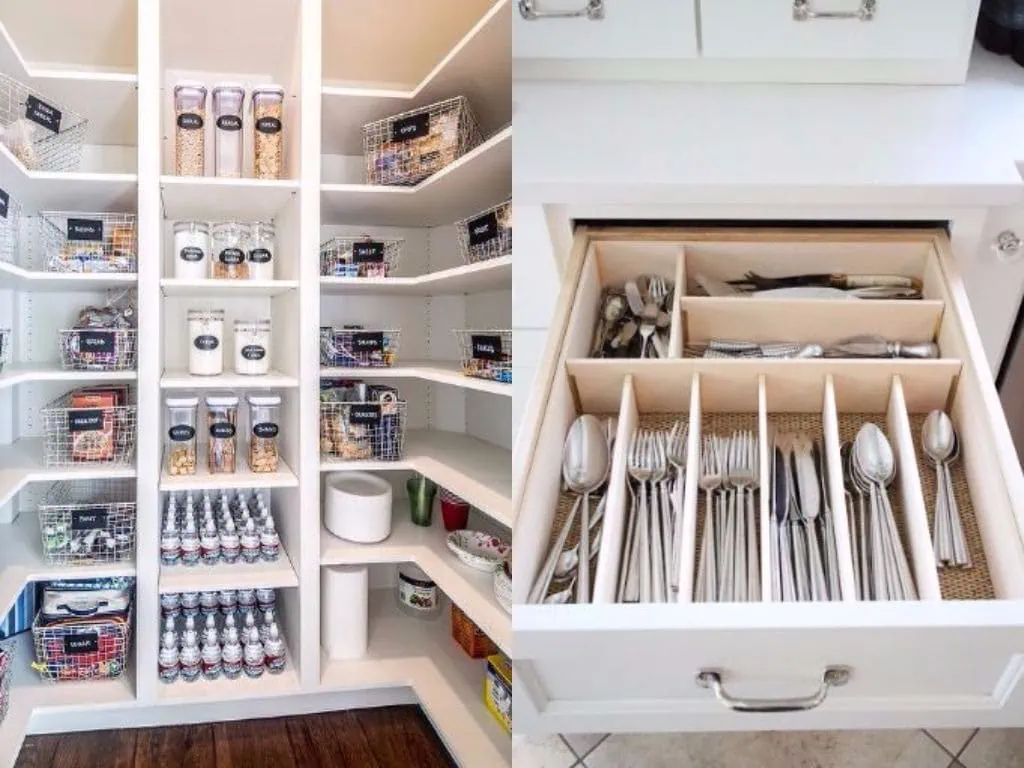 2. Drawer partitions and pantry storage
Partitioning your drawers and organizing your utensils can greatly improve the ergonomics and flow of your kitchen. Having a place to store your pots and pans, small appliances, food, and miscellaneous items in your pantry all make your kitchen much more enjoyable. If you're unhappy with your current set-up, there's no reason you should be! Update your drawers and pantry for more organized storage.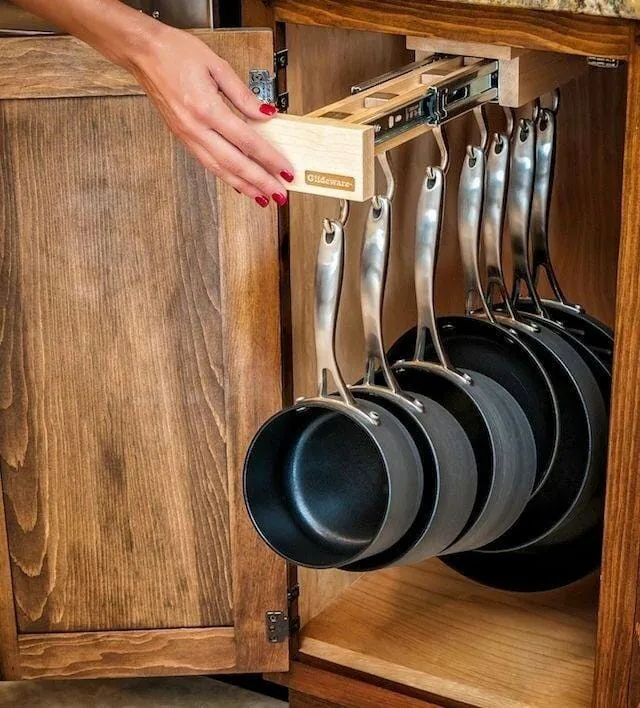 3. Hang your pans from individual hooks
You don't have to rustle through dark, overcrowded kitchen cabinets to find your favorite skillet anymore! Not only does this handy pan drawer gets your pans off the bottom of your cabinet, it separates them by giving each one it's own hook! You can simply pull out your pans and grab the one you need in a few seconds. Saves you time and a back ache.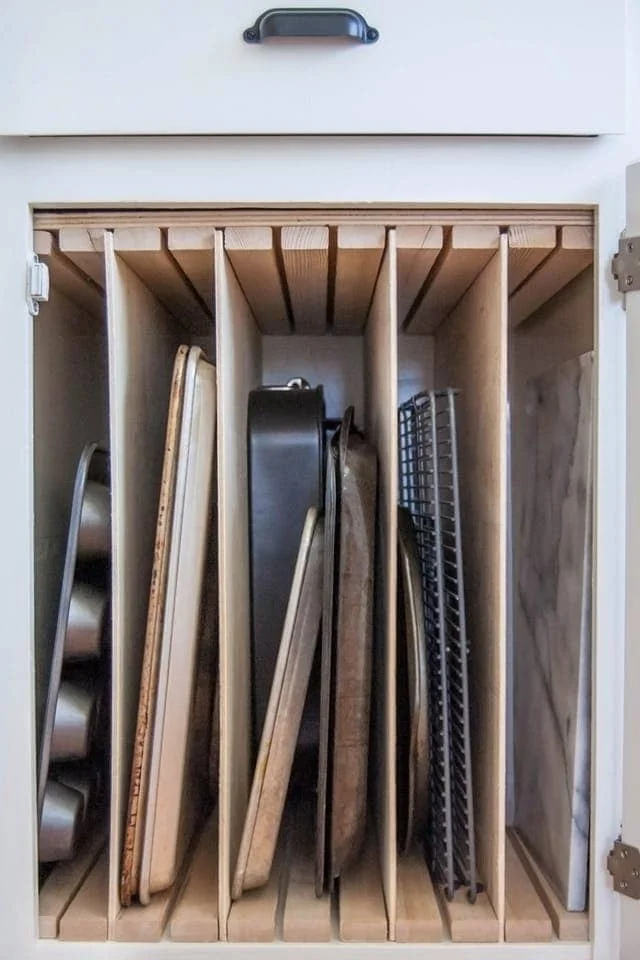 4. Vertical storage for baking sheets
Storing your baking sheets and cutting boards vertically just makes sense. No more dealing with a stack of baking sheets sliding around everywhere – with a flew slots installed into your cabinet, you can easily sort them by size and usage. The result is super practical.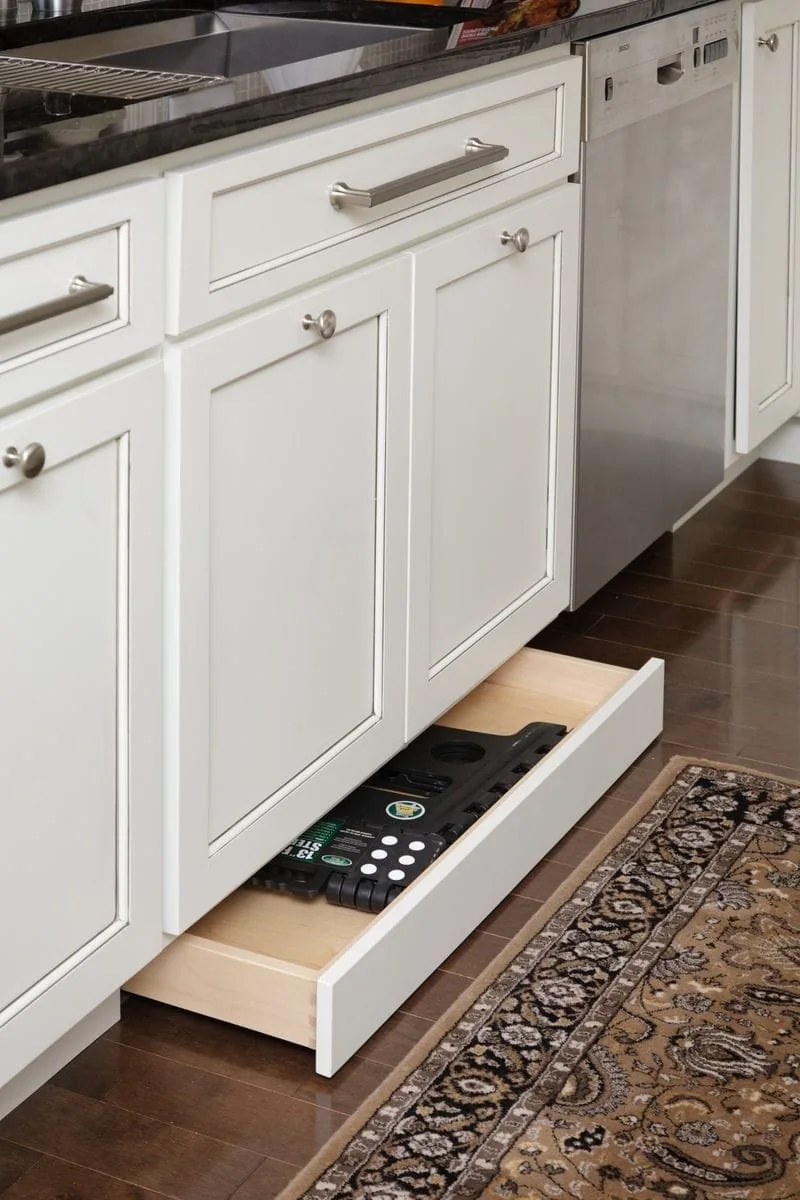 5. Toe-kick drawers
If you have a small kitchen and need more space, this one's for you! Toe-kick drawers are perfect for squeezing out every bit of storage space possible. Use these handy drawers to stash away those rarely used cooking gadgets that you just can't seem to get rid of. Another way to use these under-the-cabinet drawers is to convert them into steps, which makes it easier for petite chefs to reach those top shelves.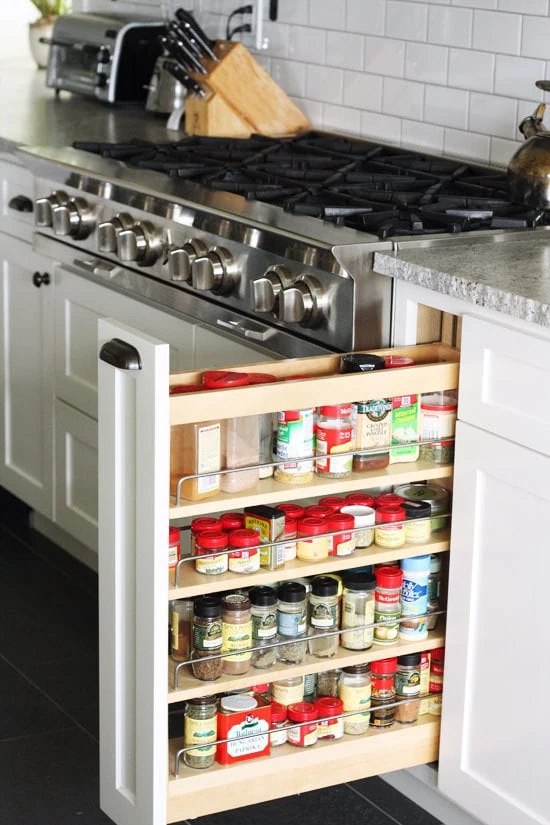 6. Pull-out spice rack
We've all felt the struggle of rummaging through a cabinet looking for a specific spice as your sauce slowly starts burning on the stove… save time and your sauce with this brilliant spice rack! By bringing all your seasonings out into the light with this drawer, it makes it easy for you to grab what you need, when you need it.
These are just a few of the useful storage ideas that you may want to consider adding to your kitchen. Making your cabinets beautiful and organized is within reach. Start planning your remodel today!